I was inspired by motorcyclerooster's wallhanging to dig this out of the ufo's. I started this in a class many years ago and just never finished it. You can see in the bottom corner the flower pots that are intended for the corner setting blocks to cover up the ends of the bias vines, and the flowers that were intended to be appliqued along the vines, there are some tulip shaped ones and leaves that I didn't get in the pic. I would like your input.
1. I would like to introduce some different fabrics for the flowers and pots. Would that look too off?
2. I have been thinking about small dresden plates as the flowers, or even hexagon flowers??
3. if I do use different fabric do you have any ideas of lines to use?
Any other ideas I haven't thought of?
I am excited for your input, and maybe I can get this ufo on it's way to being finished!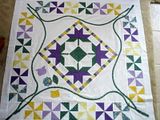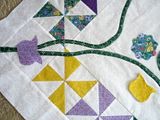 Thanks! Lola