First I guess I should explain what "tag blankets" are for those who may not know: Tag blankets are small (usually 12 to 18" squares of fabric with ribbon loops like clothing tags sewn into the front or more commonly edges. They are for babies to play with or chew on while in the car seat or stroller. You can buy them commercially but they are really easy to make. We have started making them with the scraps/leftovers from the baby quilts we have been making for friends and family. It doesn't really cost much and is a nice little addition. We buy "washable ribbon" at Joann's and use the texured (I call it "nippled" but that may not be the appropriate name?) minky fabric to back them.
Here is one we just threw together for the friends who are getting the
http://forum.missouriquiltco.com/sho...aby-quilt.html
.
IMPORTANT: Make sure you double/triple/quadruple sew in the tags as they could be a choking hazard if they come off.
We sew the tags to the front piece, then sew the front and back together inside out, then sew around the entire edge after it is turned right side out so there are 3 separate lines of stitching holding the tags.
Here are the ribbon loops being pinned to the front ready for the first line of stitches.
Here is the "front" of the finished toy. A decorative zig-zag is used because I'm not very precise. Both mom and dad went to University of Tennessee (Go Vols!) that is why the orange and white was chosen.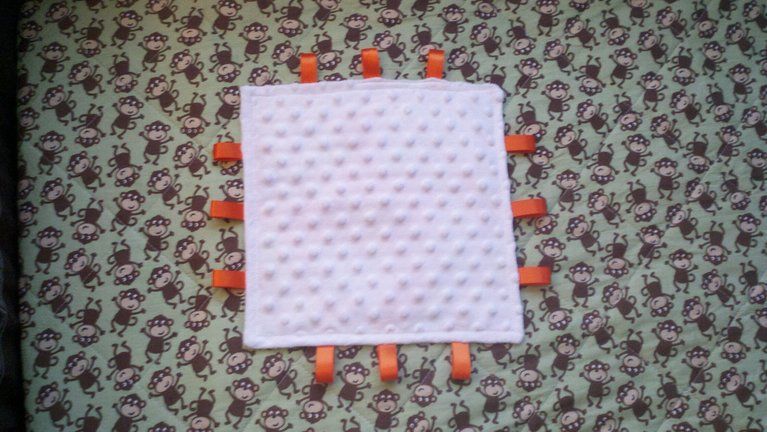 Here is the back showing the nippled minky fabric.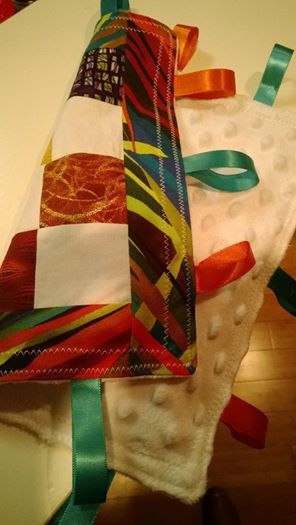 This is the only pic I have of the tag blanket we made to go with the
http://forum.missouriquiltco.com/sho...uble+hourglass
Does anyone else make these or anything else with the little scraps and leftovers to give as an additional gift with a quilt?