workspace that is. I always think it's cool to see where everyone is creative...and I always get great ideas to implement in my space when I look at how someone else does it.
so here are a few pics of my space. It's in the basement of our house. We've been doing all the work ourselves to finish it, so it's not quite perfect and the ceiling isn't done yet...but it's better than nothing: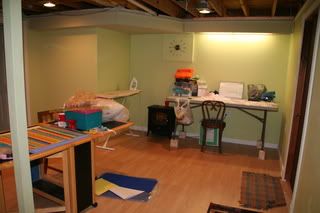 this is the space from standing in the doorway to my scrapbook room. yes I am a craft junkie.
You can see the big empty space on my sewing table...that's where my Brother goes when it's not sick.
You can also see that my table is up on blocks. I am tall and it was killing me having the table on the floor, this also makes cutting a lot easier, but I have to wait to get a second table until they go on sale again. So cutting gets done on the fold out table where you see my mess sitting.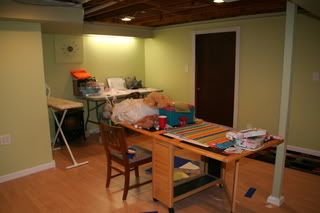 this is my space looking from the living room area of our rec room. I have to share this space with our entertainment space (working on a projection system for television), as well as the kids' playroom, storage, a bathroom, my scrapbook room, and my husband's wood workshop (behind that brown ugly door).