So this is an extension of
my previous thread
about making a double hourglass quilt. I figure no one goes back to read new posts on the third or fourth page of an old thread so I'd start a new one for this step.
The first batch of blocks is done and they are amazing! I am so happy with how they came out. We squared them to 7.5" although they probably could have been squared to 7.75" if one were careful.
Here are the triangles cut from the strip sets waiting to be chain pieced.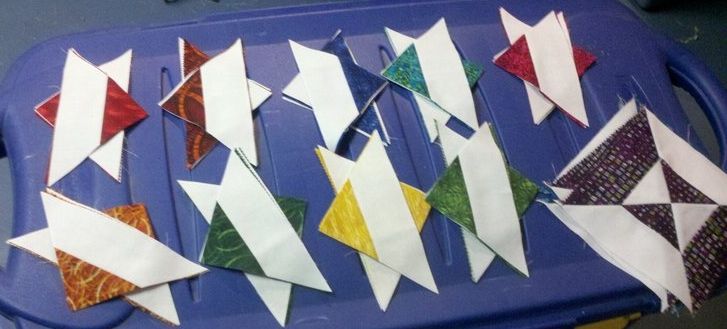 I just kind of tossed the blocks onto my "design floor" (I don't have a design wall yet) and tried to make sure no two colors were touching. The final layout will probably be pretty similar to this though.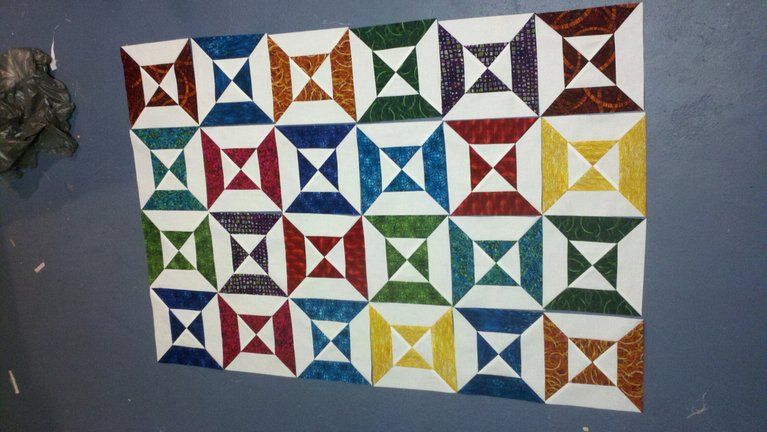 And finally, this shot was an attempt to get in close and show off some of the texture that the "Fusion Textures" jellyroll brings to the party. The colors are so vivid and the contrast is so high that they just pop.
Now they just need to be sewn together and some border or borders need to be added. I'm just going to SITD quilt it with my fancy new SITD walking foot foot.
My overall impressions of this pattern so far is that it is a winner. The sewing goes really fast because you just sew strips then everything can be chain pieced. As long as you are consistent with the direction you press the seams they nest beautifully without having to be re-pressed the other direction. There is a slight learning curve on cutting the 45° angle but once you get it you can go quickly and you really don't need any special ruler to do it. The only "hard part" is that all of the sewing of the triangles is done on the bias so there is increased chances for things to go wonky vs. straight grain sewing. Everyone who has mentioned this pattern as "on your list" I recommend bumping it to the top because this one is a fun and easy thing to get checked off your list barely a couple weeks into the new year. Good to start the year with a win!