Here is a new one for me.
Southern Sweet Potato Bread
Prep 15 MIN
Total1 HR 45 MIN
Servings12
Hide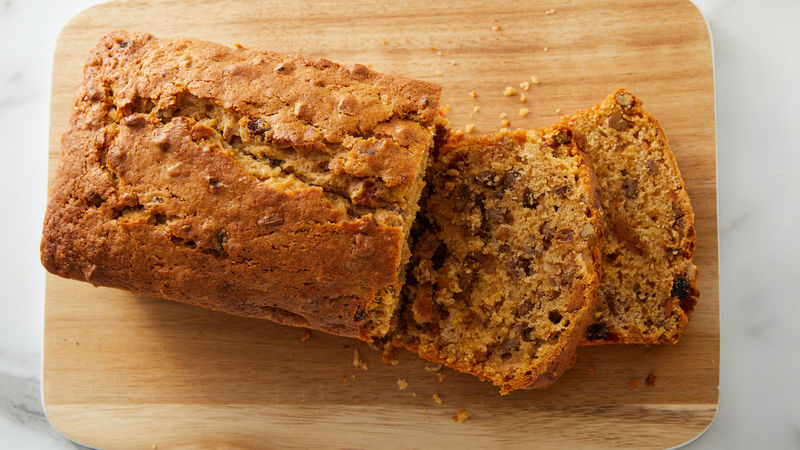 Ingredients
1 1/2 cups self-rising flour **
1 cup sugar
1 teaspoon ground nutmeg
1/2 teaspoon ground cinnamon
1/2 cup vegetable oil
2 tablespoons milk
2 eggs, slightly beaten
1 cup mashed cooked sweet potatoes, (I bake mine as I think the flavor is better), cool and peel and mash
1 cup chopped pecans, ( I also toast pecans)
1/2 cup golden raisins, (Plump in 1/2 cup of milk and use 2-Tbs in recipe.)
Steps
1. Heat oven to 350°F. Grease bottom only of 8x4-inch loaf pan with shortening or cooking spray. In large bowl, stir together flour, sugar, nutmeg and cinnamon.
2. Add oil, milk and eggs; blend well. Stir in sweet potatoes, pecans and raisins until well mixed. Pour into pan.
3. Bake 1 hour 15 minutes or until toothpick inserted in center comes out clean. Cool in pan 15 minutes. Remove from pan to cooling rack. Cool completely, about 1 hour. Wrap tightly and store at room temperature up to 4 days, or refrigerate up to 10 days.
** you can make your own self rising flour as follows:
1 cup less 2-Teaspoons, regular flour
1-1/2 teaspoons of baking powder
1/2 teaspoon salt