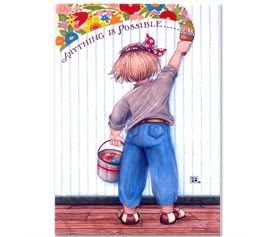 Happy Monday; a new day, a new week, new opportunities and oh so many possibilities. See how my mind works in spring?
I would've been here over the weekend - however, I am assuming that everyone on this hemisphere was deluged with rain. We had over 5 inches in less than 36 hours - down pours that left my basement flooded, I do declare all five inches were downstairs! We spent yesterday with the wet vac, de humidifier, brooms and mops. It was dry yesterday morning and then it was like a storm surge! We are high; it is something we go through now and then with a heavy rainfall. Last time we had water in the basement was about 2 years ago - I am sick at heart and let me tell you I am super sore this morning from all the wet stuff that had to be moved. We don't have "flood" insurance so time will tell how much I have lost. Sigh. Like I told my sis, that is one sure fire way of cleaning out the excess!
Off to find the coffee and muscle rub.