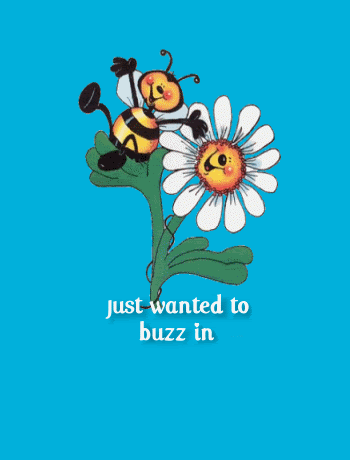 Happy Tuesday Morning, ladies!
Sandy
, I need you to keep thinking rain for us. Got us a real biggie last night. And a surprise too. Hallelujah! Luscious even got stuck in the truck for about 15 minutes! He ran out to get the windows in his truck up and when he did, the buckets began dumping rain, the lightning literally danced all in our yard and he thought it best to stay where he was until it let up a bit. LOL..
Getting ready to go out and pick some more blackberries. Hey, I have such an abundance this year. One of my friends told me that a local nurseries is selling the blackberries for 13 bucks a gallon! Perhaps I should set a sign out at the road for the blackberries and then the blueberries. Now I have sold my blueberries in the past, as well as veggies, especially my corn. Just haven't had the time in the past few years to do everything that I would like to do. I still get calls now and again about the blueberries. hmmmm.
Got the second of the sister's quilts almost done. I have been sewing my fingers to the bone. I have one more border panel to hand quilt and then I will join it. the fun will be all the hand quilting and stitching on the seams. My poor fingers. I am not very adept with thimbles. I know we've had this conversation before. I have spent a small fortune on them. Just can't get a good seat. I will be stitching during the trial this morning. Even hubs is just hooked on it. He calls from work to ask what's shaking with it. Sigh. I dont know what I will do when the trial is over, LOL!!
Have a great day ladies. Enjoy the sweet scents of honeysuckle and carolina jasmine.