I didn't post this in show-&-tell since it isn't even remotely quilt related.
Mrs. HandsomeRyan, Little Man, and I are renting a beach house this summer in SC with two other families we are friends with from high school/college. I decided to make us matching beach totes to commemorate the event. I found some very "beachy" canvas at IKEA of all places. The applique letters are a rainbow striped fabric from my stash which was purchased originally as the binding on some of my primary colored quilts. They will be lined with bleached muslin. I added a pocket to the front of each bag and I think I am going to add a small pocket and a D-loop with a carabiner for keys to the insides as well. I am impressed with how well my HV Sapphire 835 has been sewing through the multiple layers of canvas using a denim needle.
Here are the bag fronts waiting to be sewn to the backs. The letters are the last initials of each family (Cooper, Bland, Gallik). They were applied with wonder under and zig-zag stitched to add a finished edge. I learned that I need friends with easier to cut/stitch last initials.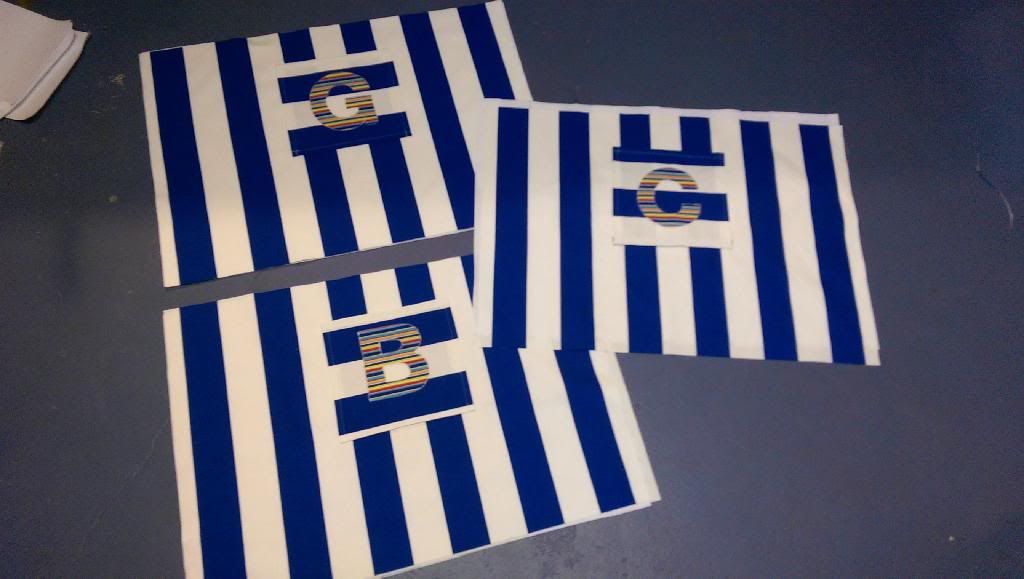 Question:
Is it worth using fusible interfacing to reinforce the muslin lining where the interior pocket will be? The pocket won't be very big and will not have a lot of weight put into it but I know muslin isn't the strongest fabric in the world either. Opinions welcome.