We got back yesterday after a short trip from our home in Maryland to meet the grandparents and some other family members in Tennessee. Sawyer was a good travel companion although he did turn a 9 hour drive into an 11+ hour car ride. I know everyone was excited to meet him.
Here are a few pics I took: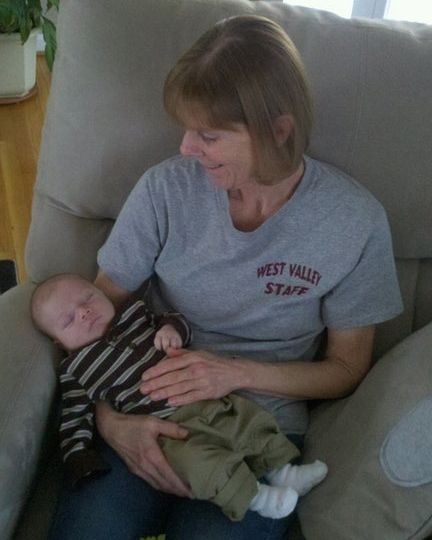 Here he is being held by my mom for the first time. She has Sawyer and another girl grand baby on the way this summer so this is a big year for her as a grandmother.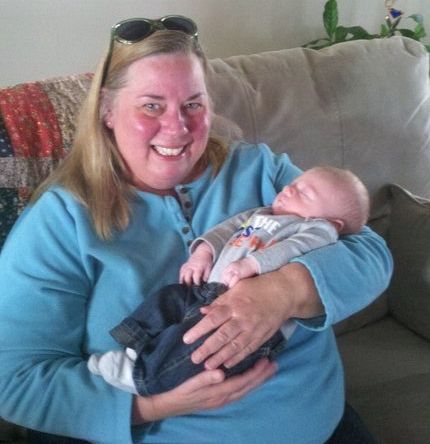 This is my aunt (my dad's younger sister) she is the one who gave me my great-grandmother's treadle sewing machine which I intend to restore at some point. She had two sons [although one of them passed away] so she has a special place in her heart for little boys. **My wife and I made that quilt which is visible over her shoulder. That was a Christmas present to my mom and as you can see from the picture of her- she is tiny and gets cold easily so she uses it a lot.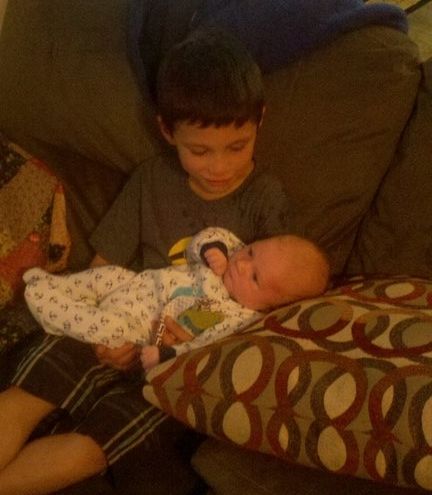 My in-laws adopted a boy they were fostering several years ago so this picture is of Sawyer and his uncle John. John is six and has made it clear that "I'm not an uncle; don't call me uncle!!" He calls Sawyer his "brother" (and his niece Sadie is his "sister") He was really good with the baby but it did take the wind out of his sails when he excitedly ran up to me in the driveway and asked me "What kind of toys does Sawyer play with?!" and I had to tell him that Sawyer is too little to play with toys and he mostly just sleeps. John is so sweet with 10 month old Sadie though- He lets her play with any of his toys and even if she is slobbering on them he tells his mom- "It's okay, we can wash them". **You can see the other matching quilt we made for my M-i-L in this picture as well. I didn't realize I got bits of both quilts in the pictures but since both moms keep the quilts out on the couches it just worked out that way.
Oddly, I didn't get a picture of my M-i-L holding the baby but I assure you she did.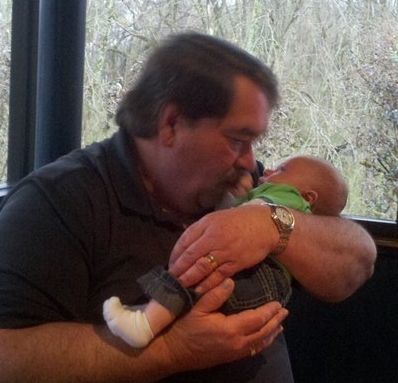 This is a picture of "Sweet T" (Sawyer's grandfather) holding him. Since we had been married so long and had not expressed a lot of interest in having kids (well, my wife was interested, I wasn't) he had sort of given up on us giving him grandchildren so he is very excited.
Finally, This last picture is to show that you are never too old to have your artwork displayed on the refrigerator door. That is the handprint artwork that Tabatha, Sawyer, and I made for her. I'll be 29 soon but my mom still proudly posts my artwork.