Howdy all,
Now that we have had Sawyer home for a couple days I thought I'd give an update. Things are going well. Little man seems to be a pretty relaxed baby and isn't making things too difficult for us. He mostly just eats, sleeps, and makes funny faces and hand gestures.
Mom is still healing up nicely. Trying to keep her from overdoing things is a full time job though. She was very relaxed about the pregnancy while I was stressed about every little detail but now we have kind of reversed roles and she gets worked up about little things while I have calmed down and as long as the baby seems happy, I'm happy.
We've taken him to the pediatrician and they said he looks good. He is still down slightly from his birth weight but he is eating well and the doctors said as long as he is back to birth weight (or greater) by the next visit that there is nothing to worry about.
Now for a little rant I need to get off my chest: I'm trying not to be upset about something that happened the other day but in my sleep-deprived state this is really eating at me. A friend texted me in the morning and asked if she could come see the baby and bring us dinner. After a few texts were exchanged, she offered to come over at 7pm and bring us some Chinese food for dinner. At about 7:20 she called to say that she was about to order the food and it would be a little after 8pm by the time she would be here. We are of course very tired and had tried to plan her visit so it would not interfere with his feeding schedule. We told her to just come over and not worry about the food. She did come over and brought her 14 month old which I had to babysit while she played with my baby. Then after she left about 8:30 I had to go try to find something for us to eat as we had not planned anything because all day we thought she was bringing us dinner. I feel like this was incredibly rude. I didn't ask her to bring dinner, she volunteered to. I know things take longer when you have kids but she has been a mom for over a year and should be able to plan how long it will take to get her own kid dressed and ready to go. Since she hadn't even ordered food yet almost half an hour after she was supposed to be at our house with the food I know that it was not a case of a last minute diaper change or something which held her up. We were polite when she visited that evening but now she keeps texting wanting to come back over. I don't really want her here. She is not a bad person but I don't think she understands that bringing over a 14 month old for me to watch while she cuddles my baby is not "helping me" and if she can't be trusted to arrive when she said she would or with the things she said she would bring that also makes things more difficult on me. I am unsure why she can't see this herself?! Anyway, it is not worth losing a friendship over but I do not think she will be getting invited back over for a while and I feel like if she figures out that I'm ignoring her and asks why I am probably going to tell her. [Thanks for listening to me whine.]
Anyway... My baby is sweet and beautiful and cuddly. Here are a couple of pictures:
Here he is in his cute "sweater onesie" his aunt and uncle (my brother and S-i-L) got him.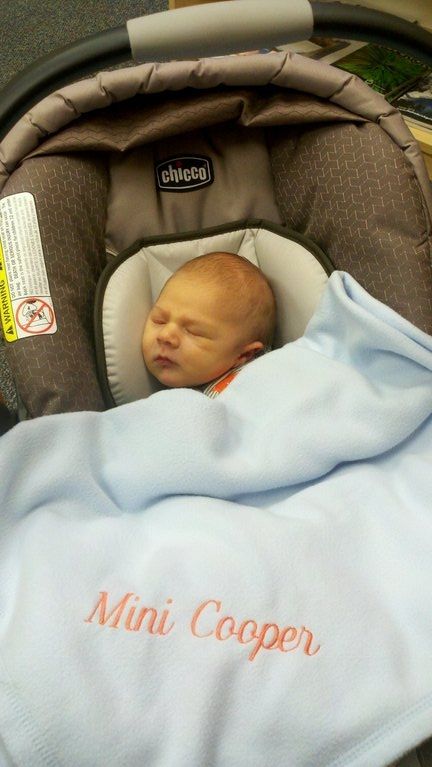 Here he is in his car seat with the "Mini Cooper" blanket his great aunt gave him.
Here he is sleeping in his bouncy chair.