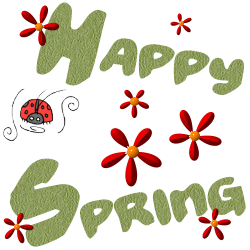 Good Morning (or evening as it may be) Lovely Ladies
Officially the first day of Spring; will be going to church for the first time in a month. I can't believe it has been that long since I have been.

Yesterday was totally awesome as far as weather goes. I hated that I had to work have of it. When I was able to get home and changed, I worked outside with the hubs for a little while. Still raking up old brown leaves that we left for a blanket for some of our perennials. The quince is in full bloom as if osur forsythia. Dogwoods are setting their buds and my tulip tree is blooming.

This morning there is a chill in the air, may get rain later, I am just wanting to chill and enjoy a day feeling healthy.

Giving thanks to our Lord for this day, family and dear friends.