Good Morning Ladies!
Feels good to sit in front of my computer screen and wave at everyone!
This has been the longest and shortest week if that makes sense. I have lost so much time just in travelling to the hospital. Once home again, I stayed away from Mom because wouldn't you know it, I started a fever. Good grief. My sis has been staying with her. Dr looked at me again and decided it was a bacterial sinus thing. Thanks Doc. More meds. I am almost feeling good but don't want to jinx anything. I have NEVER been this type of sick before and for so long. It has really whooped my butt. Sis has been staying with her. Her husband has been nice about that. Generally he is very demanding of her time. It's a shame she doesn't have a Luscious or Sandy's Al or Jan's sweet man.
We still have Mom's little chi chi with us. Gracie is sure a handful. Mom can't handle her very well because Gracie is so full of spunk and omg, is she ever headstrong. She loves me as I let her out of the crate and let her sit wallow on the sofa with me. She makes a great little lap dog. She is on my lap right now under my lap quilt.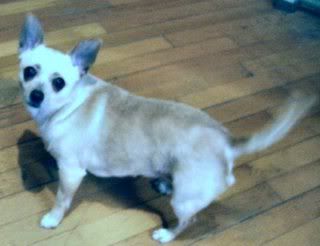 Sure have missed everyone. I may not be online much the next few days. I am going to try to work today; lost too much $$ in the past few weeks between being sick and Mom. I am certain I will come home this evening and just collapse.