Good Morning Lovely Ladies!

Yes, when I saw how I mis spelled Thursday, oh well, I haven't figured out yet how to edit a title on this group. I reckon I type with an accent. LOL.

It is raining here. Thank you Lord. As much as I am not looking forward to getting out the umbrella, I will be thankful to NOT here about how much we need rain. Yesterday afternoon when I came home it was rain with some sleet in it. This is just pure old fashioned rain.
My granny used to say that each month borrows from the past and future. Like right now in February, it is borrowing some of the cold of January and some of the wind from March. And so on. Isn't it funny how we can remember things like this but can't remember where we put our keys or reading glasses?

Last night I started hand sewing on one of the quilts for the sisters - I did a dresden fan - a bit larger than a lap, smaller than a traditional. Just enough for them to sit under. I did a signature block for the bottom right hand corner: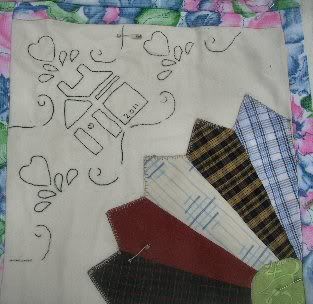 I am thinking of hand quilting the muslin with multicolor threads. What do you think? I have certainly learned a LOT about piecing shirts. A totally different experience when using them to be sure. They also had in there some older fabric and dresses from their Mom that is OLD. I thought it would be dry rotted but they are just fine.

Have a good day, dear ones.