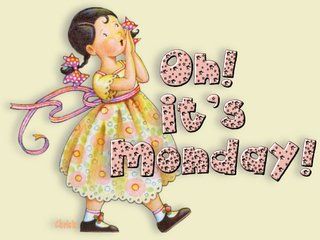 Good Morning, Ladies

Hubs is out the door, I am on my second cuppa coffee and all looks pretty good to me right now. Yes, the wind is still blowing! Did it make it on the national news or was it just on my local news this a.m. about two little girls playing in a bounce house and one was bounced 100 miles away - landing on someone's roof? Whoa, we're not in Kansas anymore, Toto! What a terrifying ride that would have been.

I expect my Sis will be here for our Monday Sew In. I refuse to answer the phone today and I refuse to clean anything. Actually, I do have to work this afternoon briefly for a client who had a sudden death in the family. So, I will at least have to clean myself up a bit. Rats. I wanted to be a total stinky slob today for a change. Sigh.

Crazy dreams all jumbled up but one I do remember is dreaming of Joe Frazier and Muhammed Ali. Now I ask you, WHY???? I could see the two of them in a parking lot of a grocery store, using the parking lines as their personal territory. You know like when you draw a line in the sand? Big yellow parking lines and Ali is saying in my dream, "This line is mine, if you cross it, it's a crime." Again, I ask, WHY? See, it's time like this that I wish my Daddy was still here. He would've enjoyed having that dream. Me? I am looking at my coffee and doughnut thinking I could never give up these vices, but I could sting worse than a bee if you tried to take it from me.

Check in later, dear ones.