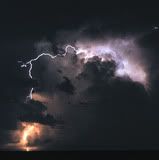 It is now Wednesday afternoon here, and I have just got my power back on after 15 hours. Last night we had in excess of the entire months average rainfall in one night and an electrical light and sound show provided by mother nature that was exceptionally spectacular. The piccy above has nothing on our sky last night, they recorded 96,000 lightning strikes including to power substations, hence the power outages across most of the state, some people still don't have power. But oh, it was glorious, we ended up going to bed with all the curtains open so we could watch it and eventually went to sleep despite the thunderous crashing and heavy rain.
Sadly some places didn't see the beauty for the damage and I feel deeply for the emergency services and other workers who had to be out there and we are all so grateful for the work they do in these times.
Hoping everyone has a lovely day.
I hope this pic is smaller for others, its being silly and large for me again.