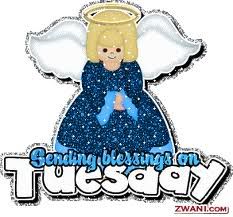 Without wanting to usurp Blondie's cute pictures, I tried to find a picture to indicate how hot it is here, I wanted to share some of our warmth with those having snow, but I failed. So I thought there are people who would appreciate some blessings so I chose this one, perhaps you could add it to your lovely collection Blondie, it may be handy to have later.
At 4pm it is 39 degrees C, so 102 F, lots of warmth to share and I spent most of the day outside with some people who had broken down by our house and the garage couldn't come out to help them until much later. Fortunately there are some nice shade trees out front. They didn't want to impose so I fed them ice blocks and lots of cold water and took their three little dogs to my garden to wet them down, poor things were getting very stressed. In the end my dear hubby closed his shop and came home to help them. All is fixed now and they are on their way and a new friendship made, it has been a good day.
I may not be back later so have a blessed Tuesday all, special thoughts to those in need and to Odie, as Jan said, I'm sure he will pass with flying colours, it seems to me his heart in the right place.