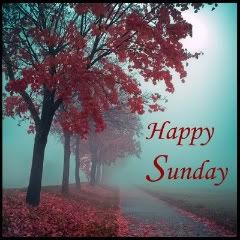 Okay, don't slap me. I just realized the date and didn't want to type it. All I can think of is the holidays are upon us and I am so unprepared. I have a tendency to push unpleasant thoughts out of my mind. Like cleaning that junk room so that my cousin will have a place to sleep this Thanksgiving. If I don't think about it, I won't work on it today. What's wrong with me? Do I like living in a pressure cooker? Aren't they known to hiss and rock about and eventually let out steam? Hmmm. That sounds dreadful. Think I will turn the timer on and just work a wee bit at a time until the timer goes off. Then I can play some.
Is Gina okay? I haven't seen her online in a few days. Gina! Say hello ~ Laura, keeping you close in prayer along with our other sisters/families here.
The sun is out, the trees are so pretty with the leaves, the ground is smothered in leaves and acorns. I can smell someone's wood burning stove. It is 25 degrees but will warm up to 60. Sigh. I love this time of year. TTFN.