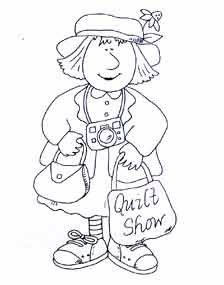 I hope everyone has gotten over the Thursday Blues.
For me today was Quilt Show Day, we have an annual 4 day Quilt and Craft Festival and it was wonderful especially as I went with three friends. I have decided there are some very crazy ladies out there, some of the work was so intricate it defied belief that it was possible to make. I wish I could post some photos but sadly because of copyright laws I can't, but suffice to say it took me over 3 hours to see all the quilts and most were masterpieces.
What was left of the day was for shopping, so many stores in one place...heaven. I was very good and stayed within my budget, but I had to be very strong.
Broken sewing machines and computers aside, I hope you all have a lovely day.